Tôt ce matin, des scans d'un magazine de la série des 'Jump' (probablement du Ultra Jump, du Weekly Shōnen Jump, ou du V-Jump) ont fuitées sur le net, vantant la promotion du prochain film animé Dragon Ball qui sortira le 30 mars 2013 au Japon. Ces pages confirment toutes les informations que nous vous avions données précédemment, dont l'implication d'Akira Toriyama dans le projet. Il est notamment dit qu'il n'a pas seulement participé au concept du film, mais qu'il en a également écrit l'histoire, et dessiné les personnages. Autre point, la confirmation du titre du film – Dragon Ball Z : Battle of Gods – écrit en kana « 神と神 » (Kami to Kami) en Japonais (Je vous avais d'ailleurs glissé une petite note sur l'analyse de ces kana dans le précédent article). Pour bannir une bonne fois pour toutes les mauvaises rumeurs que vous avez pu lire sur le net, et que nous nous sommes efforcés de balayer à chaque article depuis le début : « Saikyō, Shidō » (souvent traduit 'le plus puissant se met en marche') n'a jamais été le titre de ce film, et n'a jamais été rien de plus qu'une phrase d'accroche. Bref, que nous apporte la page ci-dessous ?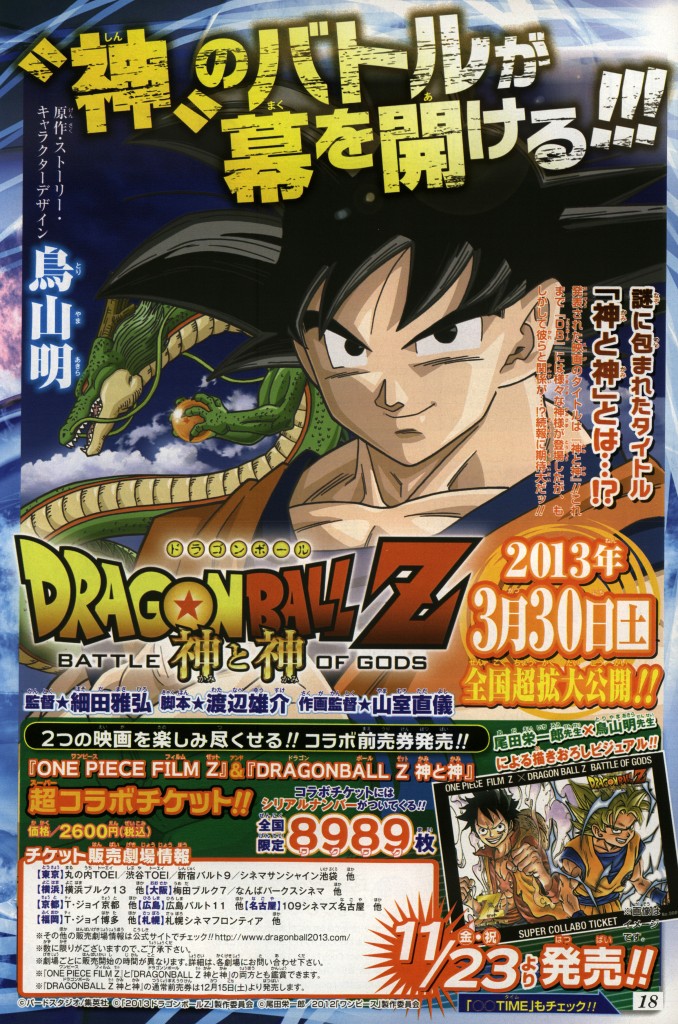 La première ligne en haut de page :
「神」のバトルが幕を開ける!!!
« Le rideau se lève sur une bataille de 'Dieu(x)'" !!!
On note un petit jeu de mot entre l'usage du caractère '神' qui signifie 'nouveau', mais aussi 'dieu', ce qui tease à merveille l'intrigue de l'histoire qui tournera, comme tout le monde s'en doute, autour d'un (ou plusieurs) dieux. Autre phrase intéressante :
謎に包まれたタイトル「神と神」とは…!?
発表された映画のタイトルは「神と神」!!これまで「DB」には様々な神様が登場したが、もしかして彼らと関係が…!?続報に期待大だッ!!
« Quel mystère plane autour de ce titre, 'Battle of Gods'…?!
Le titre du film a été annoncé, 'Battle of Gods' !! Jusqu'à maintenant, une variété de Dieux ont été vus dans Dragon Ball, mais se pourrait-il qu'il y ait un lien avec eux ?! Soyez attentifs à de nouvelles informations !! »
Cette page annonce également une prévente spéciale – « Collaboration Ticket » – en rapport avec le prochain film One Piece, « One Piece Film Z » : un double-ticket valable pour les deux films. Les tickets seront en vente dès le 23 Novembre 2012 au prix de ¥2600 (soit 25 euros). Ces tickets seront limités à 8989 exemplaires dans tout le Japon. Le ticket présentera une toute nouvelle illustration par Eiichirō Oda (l'auteur de One Piece) et Akira Toriyama, afin de célébrer la sortie des 2 films.
https://www.db-z.com/forum/index.php/topic,2750.0.html