L'attente aura été longue, mais nous y voilà enfin ! Le 3ème et dernier DLC du Season Pass 1 de Dragon Ball Z Kakarot est disponible depuis ce matin. Et contrairement aux deux premiers DLC, ce troisième contenu promet une longue trame narrative : celle de l'histoire de Trunks. Sans trop spoiler, on rappelle que ce DLC renferme de belles surprises, que Bandai Namco s'est bien gardé de dévoiler pendant la promotion de ce pack. Preuve qu'il n'est pas nécessaire de tout montrer pour que la hype soit présente !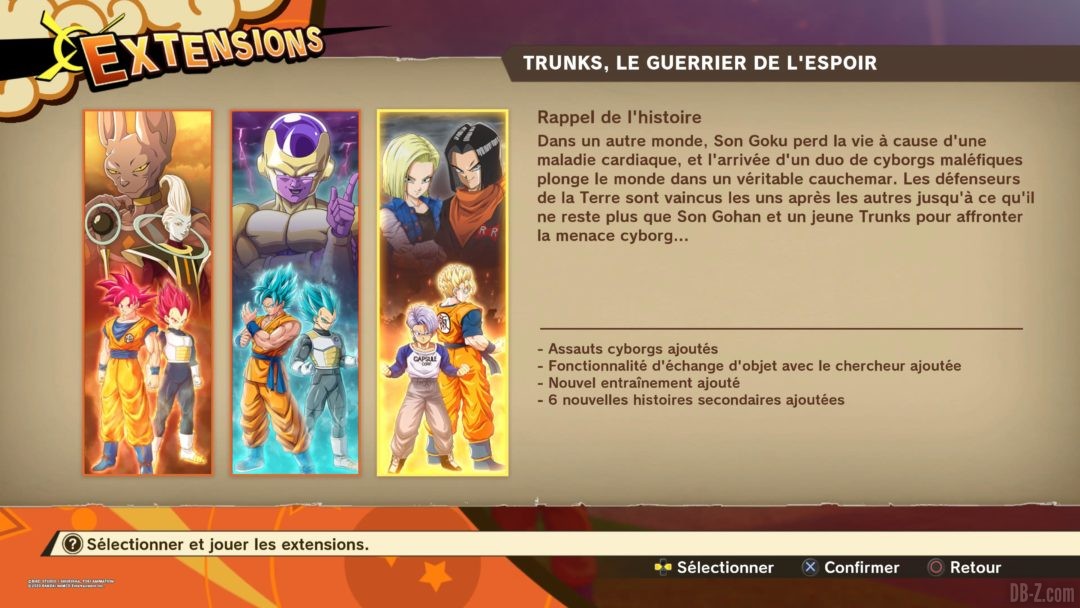 Un peu d'histoire
L'histoire du DLC Trunks, le guerrier de l'espoir » commence exactement comme dans l'épisode TV spécial de l'histoire de Trunks, sorti en 1993. L'histoire commence, dans un futur alternatif, avec une triste nouvelle : la Z-Team subit la mort de Goku des suites d'un virus cardiaque, alors que sa femme Chichi et son beau-père Gyumao restent à son chevet, rejoints par Son Gohan qui découvre le corps sans vie de son père.
Plus tard, deux cyborgs, C-17 et C-18 attaquent la capitale du Sud. Piccolo, Vegeta, Yamcha, Ten Shin Han, et Krilin sont tués par ces derniers, en tentant de les arrêter. 13 années se sont écoulés et les cyborgs continuent de semer la pagaille. Constatant de lui-même les dégâts causés par les cyborgs & se sentant impuissant de ne rien pouvoir faire, Trunks supplie Son Gohan de l'entraîner afin qu'il devienne assez fort pour les affronter, ce que ce dernier accepte. Sentant son potentiel, celui-ci lui apprend à se battre, mais aussi à se transformer en Super Saiyan. Le lendemain, les deux cyborgs recommencent leurs méfaits. Les deux jeunes Saiyans partent les affronter, mais ne sont pas de taille contre eux et lors de ce combat, Son Gohan perd un bras. Reprenant l'entraînement, Trunks se rapproche de plus en plus de la transformation, mais les cyborgs refont des siennes et cette fois, Son Gohan part les affronter seul, assommant Trunks souhaitant l'accompagner.
Malheureusement, après avoir recouvré ses esprits, Trunks découvre le corps sans vie de son maître et, empli de tristesse et de colère, parvient enfin à se transformer en Super Saiyan. 4 ans plus tard, Trunks a beaucoup progressé. Hélas, malgré ses efforts, il n'est toujours pas de taille face à C-17 et C-18. La machine à voyager dans le temps est prête et Trunks décide de se rendre dans le passé afin de rencontrer Son Goku.
Mais le DLC ne s'arrête pas là ! En effet, il va beaucoup plus loin que le téléfilm spécial de 1993, puisque les joueurs vivront également ce qu'il s'est passé après la mort de Cell (dans le présent). En effet, on continuera d'évoluer avec Trunks lorsqu'il ramène la paix dans sa timeline. Et comme nous le disions après, d'autres surprises attendent les joueurs…
Quelques images
Trailer de lancement du DLC Trunks le guerrier de l'espoir
Trailer du 3ème DLC de DBZ Kakarot « Trunks, le guerrier de l'espoir »
Ce DLC « Trunks – The warrior of hope » (Trunks – Le guerrier de l'espoir) est inclus dans le Season Pass du jeu, aux côtés des deux premiers DLC de Battle of Gods et Résurrection de F. Il sortira le 11 juin 2021, et on espère que d'autres DLC du même type prendront le pas.
Le Season Pass de Dragon Ball Z Kakarot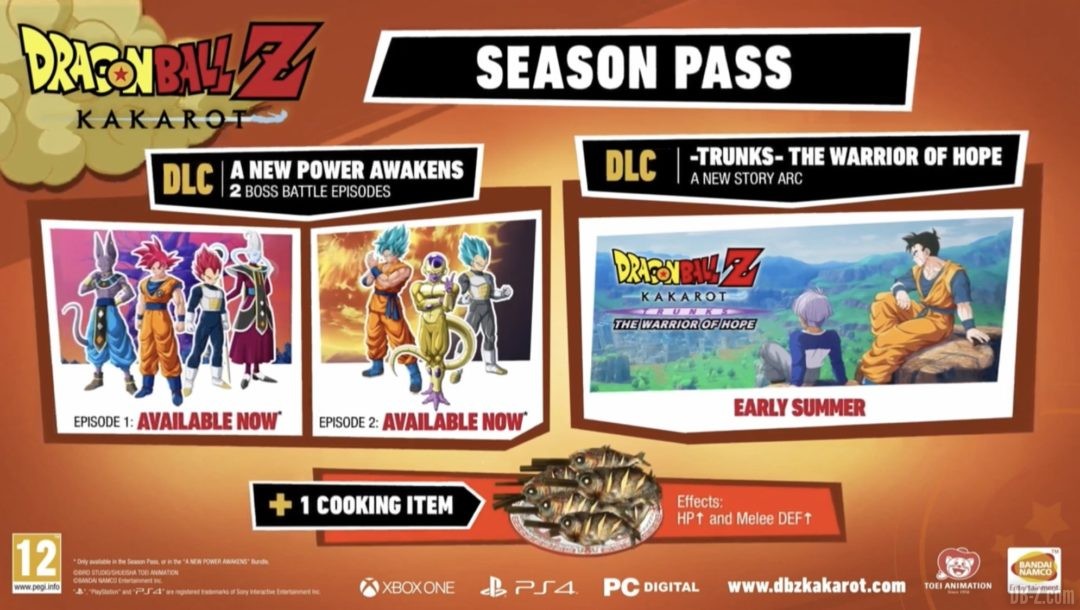 Dragon Ball Z Kakarot
Dragon Ball Z Kakarot est un jeu vidéo développé par CyberConnect2 (studio connu pour les séries .hack et Naruto). En effet, c'est un Action-RPG qui offre « une réinterprétation épique de l'histoire de Dragon Ball » dans laquelle les fans peuvent revivre « comme jamais auparavant » l'histoire du Saiyan Kakarot, mieux connu sous le nom de Son Goku, à la recherche d'un pouvoir toujours plus grand. D'autre part, on nous décrit un voyage qui le conduira à défendre la Terre contre de terribles ennemis. Le titre sort en France sur PlayStation 4 – Xbox One – PC via Steam le 17 janvier 2020. D'ailleurs, les différentes versions de Dragon Ball Z Kakarot sont à découvrir dans une édition Standard, Deluxe, Ultimate et Collector, offrant de vastes cartes librement explorables parsemées de missions secondaires et d'objectifs parallèles. Enfin, vous pouvez retrouver plus d'informations sur le site officiel de Dragon Ball Z Kakarot.