Gyumao, c'est le père de Chichi. Littéralement, son nom se traduit par le « Terrible Roi Taureau », mais on va l'appeler Gyumao pour que ce soit moins pompeux. Bref, Gyumao est le père de Chichi, et naturellement le grand-père de Gohan et Goten, ainsi que l'arrière-grand-père de Pan.
Il était l'un des premiers humains rencontrés par Son Goku lorsqu'il a quitté le Mont Paozu. Il était le roi qui régnait sur le Mont Frypan, mais il était aussi un ancien expert en arts martiaux dans sa jeunesse. Il 'était d'ailleurs l'ancien ami et rival de Son Gohan, le grand-père adoptif de Goku, à une époque où les deux s'entraînaient à l'école de la Tortue sous l'enseignement de Kame Sennin.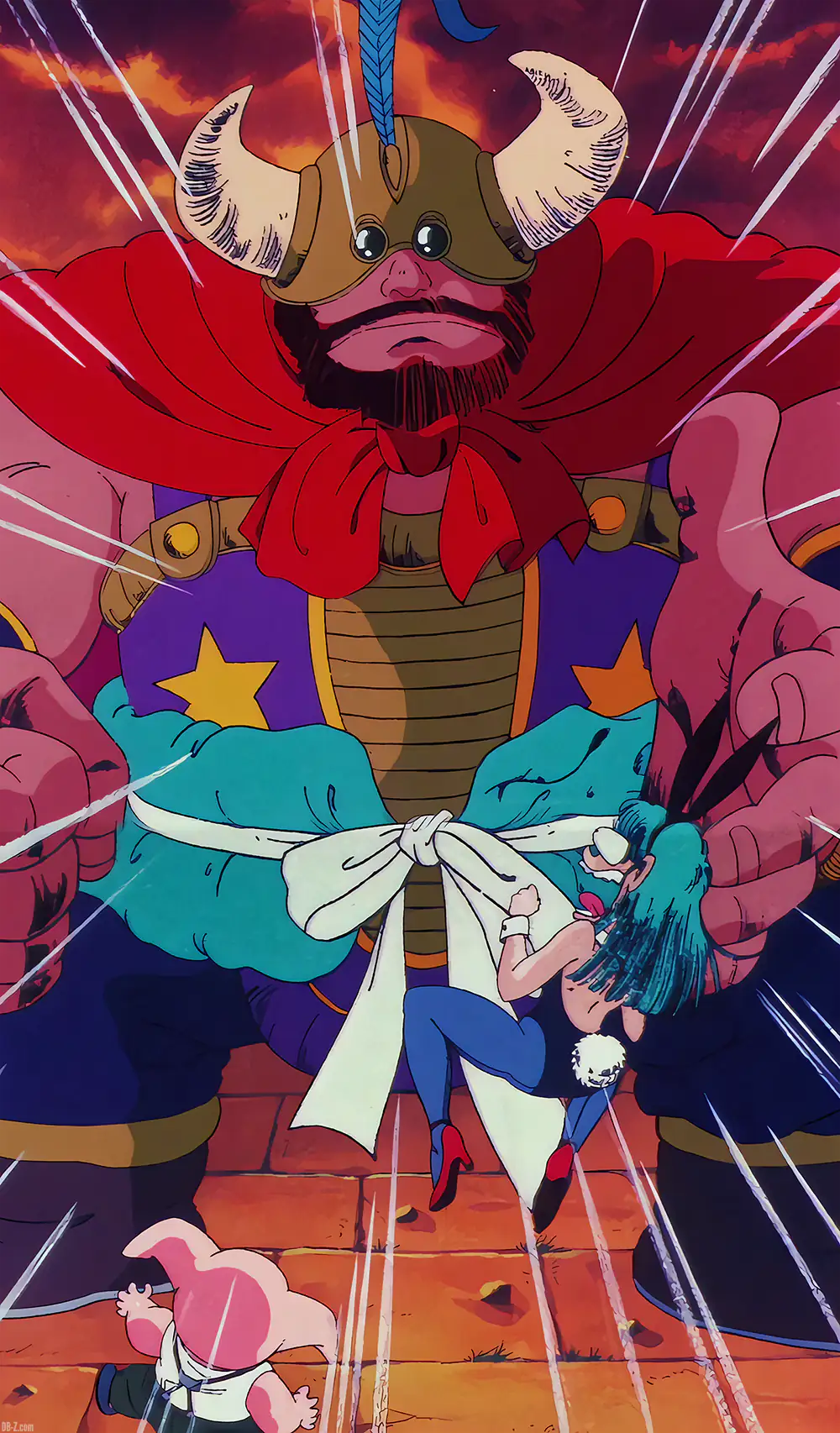 Pendant longtemps, on n'a pas revu le Roi Taureau. Rangé au rang des personnages de second plan (pour ne pas dire pire), il est absent pendant presque tous les arcs de Dragon Ball et Dragon Ball Z, malgré quelques apparences auprès de Kame Sennin ou de sa fille Chichi. Puis en 2013, on a eu la surprise de le revoir dans une tenue plutôt classe, lors du grand retour de Dragon Ball au cinéma dans le film Battle of Gods.
Charadesign de Gyumao dans Dragon Ball Z : Battle of Gods
Le film Dragon Ball Z Battle of Gods est sorti le 30 mars 2013 au Japon. En France, le film n'a jamais vu le jour dans les salles obscures, mais il est sorti en DVD et Blu-Ray le 11 février 2015. Coïncidence, cette même année, le film Dragon Ball Z La Résurrection de F sortait le 29 juin 2015 en France (en avant-première au Grand Rex), et le 11 septembre 2015 en sortie nationale sur tout le territoire.
Pour en revenir à Battle of Gods, c'est là que l'on a revu le père de Chichi dans un tout nouveau look, moderne, décontracté, et un peu queer. Dans le film, Bulma organise une somptueuse fête pour fêter son anniversaire, et Gyumao vient bien habillé pour impressionner la galerie comme le montre l'illustration ci-dessus, dessinée par Akira Toriyama. Bien que Gyumao assiste à la fête en portant son casque à cornes, il s'assure de contraster son apparence sauvage avec une cravate à la mode pour montrer son respect pour une occasion aussi formelle.
Le nouveau design du père de Chichi avait été dévoilé dans cette série d'illustration d'Akira Toriyama. Il s'agit des conceptions artistiques des personnages du film Battle of Gods, où Gyumao apparaît à taille humaine, bien loin de l'image de titan qu'il avait lors de sa première apparition, pour l'effet de style.

Du manga à la conception des personnages en passant par les interviews, Shueisha présente ici une image rare et difficile à trouver tous les deux jours. Chaque image ne peut être vue que pendant 24 heures après sa publication sur le site officiel, mais nous l'hébergeons à vie ici sur DB-Z.com.