Trunks dans Jump Force, ça vous dit ? Les premières informations du magazine V-Jump du mois commencent à tomber, et on a de nouveaux noms pour le prochain jeu de combat de Bandai Namco.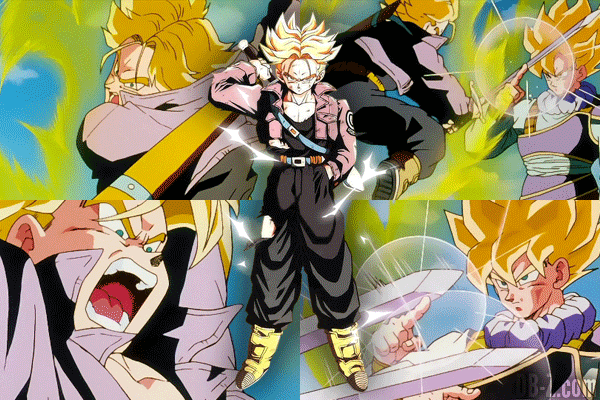 Trunks (Dragon Ball), Boa Hanckock (One Piece), et Abarai Renji (Bleach), seront donc bien présents dans le futur crossover des héros de l'univers Jump. Côté Dragon Ball, Trunks s'ajoute à la liste des personnages jouables de Jump Force, aux côtés de Goku, Vegeta, Freezer, Piccolo, et Perfect Cell.
Piccolo et Cell étaient annoncés dans Jump Force depuis le précédent magazine V-Jump, sorti en novembre dernier.
Jump Force, en bref…
Jump Force sortira le 15 février 2019 sur Windows, PS4, et Xbox One. Il est le cinquième jeu vidéo de crossover officiel sponsorisé par Shueisha, la maison d'édition des magazines du Jump et de Dragon Ball. Il célèbre le 50ème anniversaire de l'hebdomadaire Weekly Shonen Jump. Les premières informations sur le jeu racontent une histoire qui amènera les héros du Jump World dans le monde réel, où ils se battront aux côtés du joueur pour sauver notre Terre. Edité par Bandai Namco, le titre comprendra également un mode en ligne avec une expérience multi-joueurs, qui comprendra une option permettant de créer votre propre avatar personnalisé pour interagir avec des joueurs du monde entier. Selon les dernières informations connues à ce jour, le mode en ligne consistera en une immense arène composée de quatre lieux distincts : les mondes de One Piece, de Naruto, de Dragon Ball Z et du monde réel.
Le développement a été confié à Spike Chunsoft, l'un des studios de développement les plus célèbres quand on parle du Dragon World et des adaptations vidéo-ludiques d'Akira Toriyama. On se souvient des premiers titres Dragon Quest, ou encore des séries Raging Blast et Budokai Tenkaichi. Spike Chunsoft est aussi le studio derrière le développement de J-Stars Victoire VS, un précédent crossover dédié aux héros du Jump publié en 2014 à l'occasion du 45ème anniversaire de Weekly Shonen Jump.
Liste des personnages de Jump Force
Pour l'instant, 28 personnages issus de 11 mangas ont été confirmés comme jouables.
Bleach
Ichigo Kurosaki
Rukia Kuchiki
Sōsuke Aizen
City Hunter
Ryo Saeba
Dragon Ball
Son Goku
Vegeta
Freezer
Cell
Piccolo
Fist of the North Star
Kenshiro
Hunter × Hunter
Gon Freecss
Killua Zoldyck
Kurapika
Hisoka Morow
Naruto
Naruto Uzumaki
Sasuke Uchiha
One Piece
Monkey D. Luffy
Roronoa Zoro
Vinsmoke Sanji
Sabo
Blackbeard
Rurouni Kenshin
Kenshin Himura
Makoto Shishio
Saint Seiya
Pegasus Seiya
Dragon Shiryū
Yu-Gi-Oh!
Yugi Moto/Yami Yugi
Yu Yu Hakusho
Yusuke Urameshi
Younger Toguro