Dragon ball Heroes GDM5 (God Mission 5) a été présenté ce week-end lors du LIVE des 5 ans de Dragon Ball Heroes, le jeu vidéo d'arcade exclusif au Japon qui divise les fans autant qu'il ne les rassemble. On sait désormais qu'il sortira mi-novembre 2015, avec pour rappel l'arrivée de Son Gohan Super Saiyan 4 en vedette, ainsi que de la nouvelle transformation de Towa - Dark Towa, et Super N°17 qui a absorbé N°18.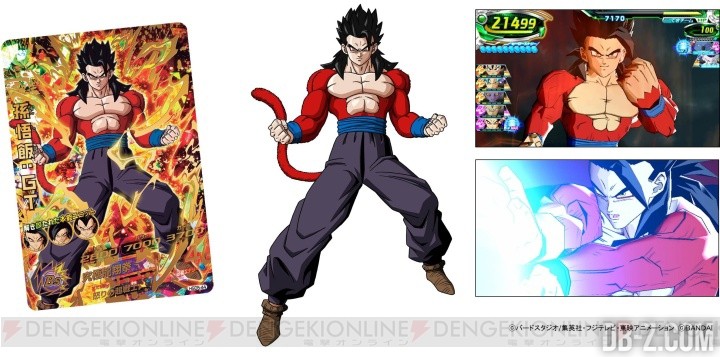 "F" de Maximum The Hormone inclus dans le jeu
Autre nouvelle, le titre "F" du groupe japonais Maximum The Hormone, sera également inclus dans Dragon Ball Heroes GDM5, pour le plus grand plaisir des joueurs qui avaient pu découvrir cette chanson en hommage à Freezer dans le dernier film Dragon Ball Z La Résurrection de F.

Dragon Ball Heroes en bref
Dragon Ball Heroes (ドラゴンボールヒーローズ, Doragon Bōru Hirozu) est un jeu vidéo d'arcade sorti le 11 novembre 2010 au Japon. Il est basé sur l'univers de Dragon Ball. Un portage du jeu sur Nintendo 3DS, nommé Dragon Ball Heroes : Ultimate Mission, est sorti le 28 février 2013 au Japon, tandis que Dragon Ball Heroes : Ultimate Mission 2 est sorti le 07 août 2014.
Pour rappel, Dragon Ball Heroes est un jeu d'arcade (porté sur Nintendo 3DS au Japon) dans lequel le joueur utilise un maximum de 5 cartes à collectionner. Chaque caractère de chaque carte apparaît sur l'écran, il s'agit alors de les positionner sur le tableau de bord de la borne d'arcade et de déplacer pour effectuer des mouvements / attaques.
https://www.db-z.com/forum/index.php/topic,1474.0.html