La série télévisée Dragon Ball Super prépare-t-elle son retour ? On l'ignore encore, mais le programme de la prochaine Jump Festa 2019 vient de publier la liste des licences qui feront le show lors de l'event, et Dragon Ball Super en fait partie. Elle aura lieu les 22 et 23 décembre 2018, au Makuhari Messe, dans la banlieue de Tokyo.
La Jump Festa est un événement consacré aux secteurs du manga et de l'animation, et qui a lieu chaque année depuis 1998 au Japon. C'est l'éditeur Shueisha (créateur des différents magazines V-Jump, Weekly Shonen Jump,  Saikyo Jump, etc…) qui gère et organise cet événement. Il est d'usage que cet événement serve à montrer des séries déjà connues sous un autre jour, afin de démontrer la capacité de renouvellement des auteurs, par exemple grâce à des produits, des chapitres spéciaux, ou des épisodes spéciaux. Beaucoup d'artistes parmi les plus populaires des magazines Jump participent et interagissent à l'événement par le biais de séance de dédicace ou autre.
Cette messe annuelle est surtout l'occasion de présenter de nouveaux films, séries TV, mangas, jeux vidéo, et autres marchandises diverses, et justement, Dragon Ball Super fait partie du line-up des annonces à venir cette année :
One Piece
Haikyu!!
My Hero Academia
Black Clover
Kimetsu no Yaiba
Boruto
The Promised Neverland
We Never Learn
Dragon Ball Super
Oui mais "Dragon Ball Super", c'est vague...
Vous avez raison, mettre Dragon Ball Super dans la liste des licences qui feront l'actualité de cette Jump Festa, ça veut tout et rien dire. Il pourrait très bien s'agir d'une annonce en rapport avec le manga Dragon Ball Super, ou d'un tout autre produit en rapport avec la licence, mais le site officiel de la Jump Festa nous apprend que Dragon Ball Super sera présent sur la scène du Jump Super Stage, le gros événement principal où se font traditionnellement les grosses annonces films / séries de 2019 à ne surtout pas manquer. Mais qu'on soit bien d'accord, ça ne veut toujours rien dire, mais il nous semble important de l'écrire pour éviter toute mauvaise interprétation / précipitation sur les réseaux sociaux.
Rendez-vous donc les 22 et 23 décembre pour en apprendre davantage. Et vous, qu'en attendez-vous ? Peut-être une adaptation longue du film Dragon Ball Super BROLY en série TV, comme ce fut le cas pour les films Battle of Gods et la Résurrection de F ?
Au passage, notez que sur le scan ci-dessous, Goku dit "Zettai kitekure yo na !" (littéralement "vous devez absolument venir !"), en référence au célèbre "Zettai mitekure yo na !" (littéralement "vous devez absolument regarder !") de Masako Nozawa à chaque fin d'épisode de la série TV. Petit clin d'oeil.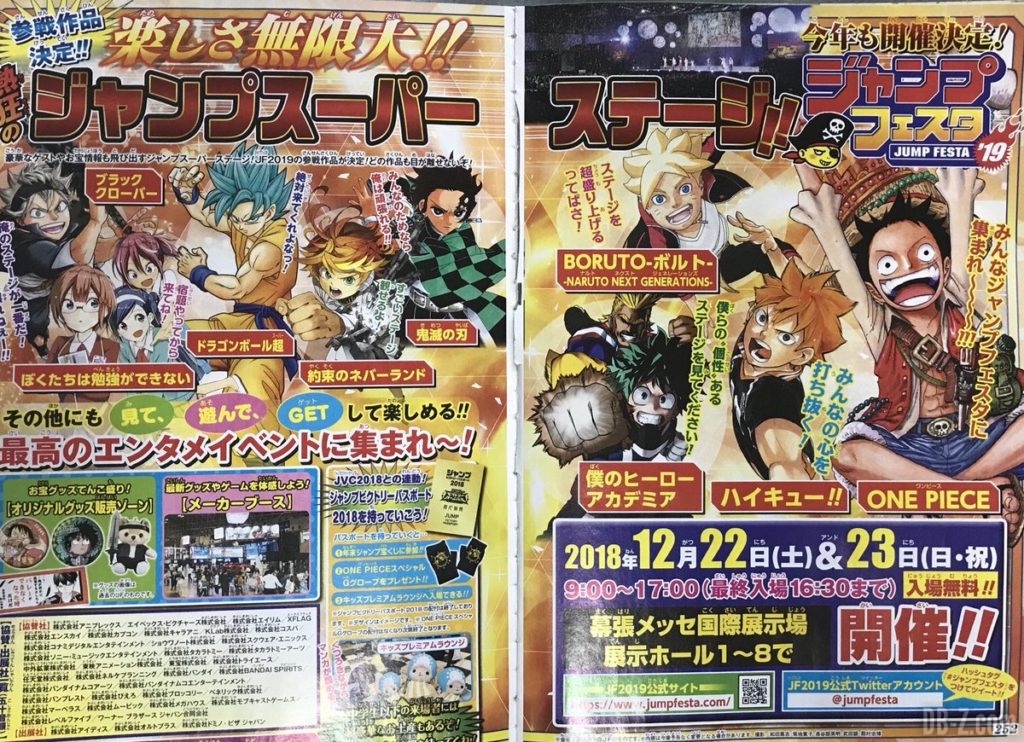 Par contre, pour bien remettre les choses à leur place : ce visuel ci-dessous qui circule sur les réseaux actuellement est un ancien visuel qui n'a rien à voir avec cette annonce :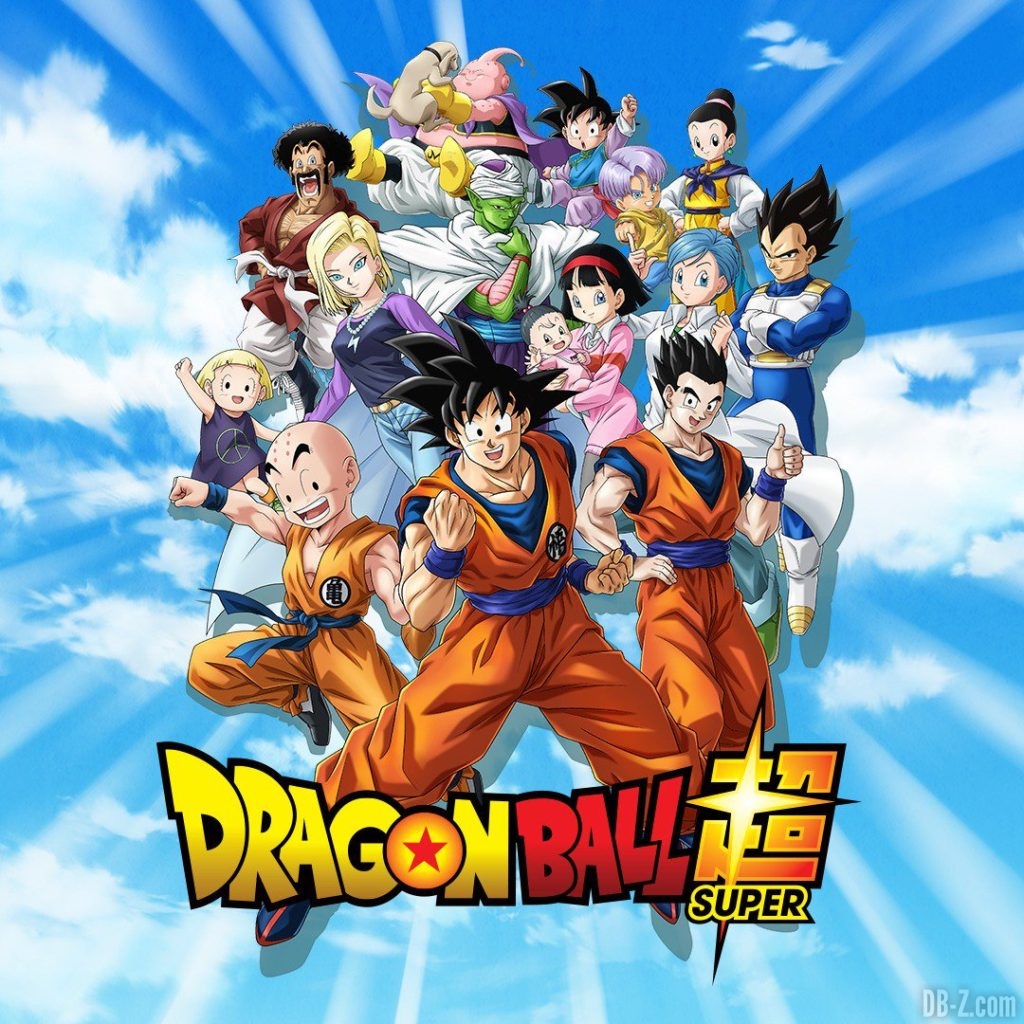 Rendez-vous donc au Jump Super Stage de la Jump Festa 2019 !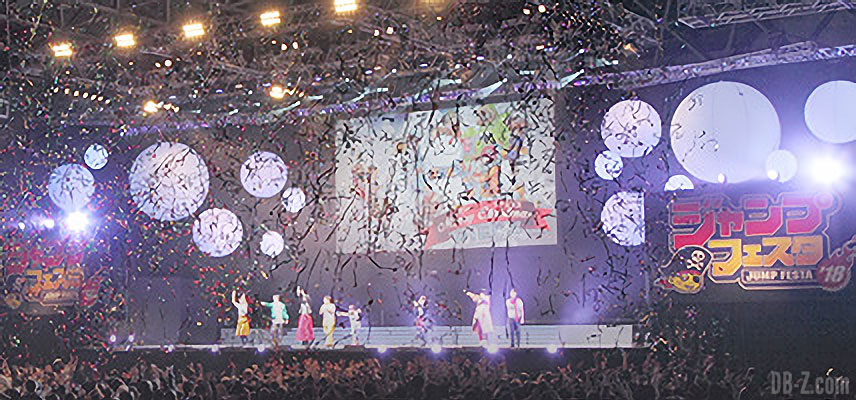 Dragon Ball Super
Dragon Ball Super (ドラゴンボール超スーパー, Doragon Bōru Sūpā, généralement abrégé en DBS) est un manga et une série TV diffusée sur Fuji TV et rediffusé sur d'autres chaines japonaises chaque dimanche à 09h00, à partir du 05 juillet 2015. Il s'agit de la première série TV Dragon Ball, 18 ans après la diffusion du dernier épisode de Dragon Ball GT en 1997. L'histoire débute quelques années après le combat contre Majin Buu, et commence avec les arcs des 2 derniers films Dragon Ball Z : Battle of Gods et Dragon Ball Z : Résurrection F.
La série animée Dragon Ball Super se situe entre les épisodes 288 et 289 de Dragon Ball Z, et entre les chapitres 518 et 519 du manga papier. A terme, Toyotaro a déclaré que Dragon Ball Super se terminera avec la fin officielle du manga Dragon Ball d'Akira Toriyama, c'est-à-dire au 28ème Tenkaichi Budokai, où Goku partira avec Uub.
La conception
La série Dragon Ball Super est développée par Toei Animation, dans un processus similaire aux séries TV Dragon Ball, Dragon Ball Z et Dragon Ball GT. Le manga quant à lui est co-écrit et dessiné par Toyotaro, bras droit d'Akira Toriyama. Akira Toriyama écrit les idées principales, et Toyotaro s'en sert de base pour développer l'histoire. Toyotaro crée les dialogues, les illustrations, et développe même les idées de Toriyama en ajoutant ou en changeant des éléments du plan du Maître. Toriyama vérifie également tous les storyboards de Toyotaro pour le manga. Pour ce faire, Toyotaro envoie ses planches à Toriyama, qui les lit, puis qui les renvoie avec d'éventuelles corrections à Toyotaro afin d'obtenir le produit final parfait. Toyotaro s'assure également que son manga suive la continuité d'Akira Toriyama. Akira Toriyama a déclaré que c'est la prise de liberté de Toyotaro à changer l'histoire qui rendra le produit final meilleur.