Surprise ! La newsletter de janvier 2015 de CanalPlay annonce que le film Dragon Ball Z – Battle of Gods sera disponible en VF le 12 janvier dans son catalogue ! L'annonce est soudaine, et beaucoup d'entre nous l'attendaient pour une sortie prochaine en France en DVD / Blu-Ray, après l'annoncé récente du doublage de Battle of Gods en VF, mais c'est finalement le service de VOD du groupe Canal+ qui rafle l'exclusivité. Merci à @Jordan27cents sur Twitter pour la notif !
Si ça, c'est pas une bonne raison pour utiliser votre ESSAI GRATUIT D'1 MOIS à CanalPlay ! Et ça marche à la fois sur TV, PC, tablette, et smartphone.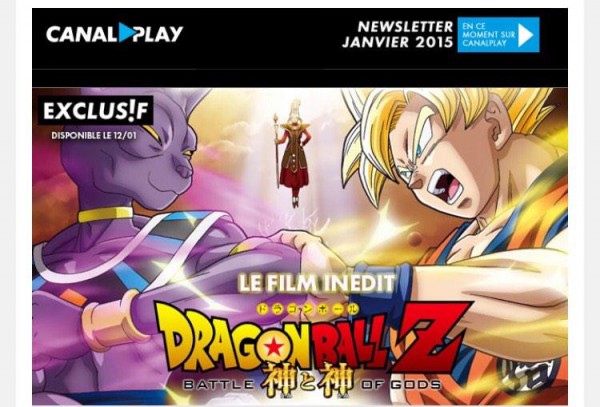 Dans le doute, nous avons demandé à CanalPlay sur Twitter, qui nous confirme également la bonne nouvelle :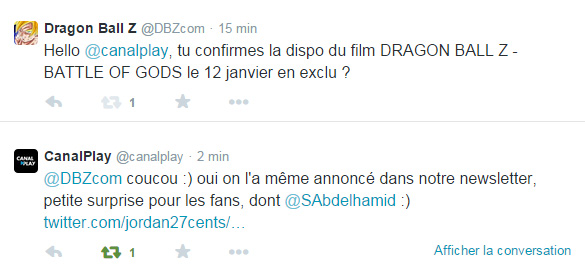 Espérons que cette expérience soit positive et qu'elle motive les groupes français de s'intéresser un peu plus rapidement au prochain film Dragon Ball Z – La Résurrection de F qui sortira le 18 avril 2015 au cinéma au Japon !
Attends, CanalPlay c'est quoi ?
J'ai reçu pas mal de question sur ce qu'est CanalPlay. Non, ce n'est pas une chaine de TV ! C'est est un service français de vidéo à la demande, comme Netflix ou comme sur PSN ou Xbox Live quand vous louez ou achetez des films ou séries. Des formules de téléchargement, de diffusion en flux (streaming) et d'accès par abonnements ou forfaits sont commercialisées. Il existe 2 formules : l'une permet un accès sur smartphone, tablette et PC, l'autre formule quant à elle, permet un accès total aux différents support dont la TV. En tout cas, un essai d'1 mois est actuellement GRATUIT si vous voulez tester et regarder Battle of Gods gratuitement et légalement !
https://www.db-z.com/forum/index.php/topic,2750.0.html