Le directeur artistique de God of War revisite Dragon Ball dans un style ultra réaliste. Et si vous pensiez que le DA du prochain Ragnarök n'avait pas de temps libre pour se consacrer à la création de fanarts Dragon Ball, voilà qui devrait rectifier votre jugement. Si on ne tient pas là un vrai passionné par son métier, et par Dragon Ball, je ne comprends plus rien.
Raf Grassetti, le directeur artistique de God of War Ragnarök s'est donc amusé à réaliser des personnages de Dragon Ball Z, mais sous un angle complètement différent de celui du manga ou de la série TV. Autant dire que cela ne va pas plaire à tous les fans, puisqu'une partie de la communauté considère que Dragon Ball et réalisme n'ont jamais fait bon ménage – ce qui n'est pas tout à fait faux, mais pas tout à fait vrai non plus.
Grassetti s'est donc attaqué à plusieurs protagonistes de DBZ, en partageant ses créations sur son compte Instagram (en haute qualité), et sur son compte Twitter. Remarquez qu'il semble davantage intéressé par les méchants que par les héros du manga, puisqu'on n'a par exemple aucun (Super) Saiyan, qui sont pourtant les personnages les plus populaires de Dragon Ball. En même temps, on peut supposer que dans ce genre d'exercice assez acrobatique, les monstres sont peut-être les plus faciles à revisiter.
Honnêtement, je ne suis pas fan du résultat, mais j'ai hâte de lire vos retours dans les commentaires plus bas.
Dragon Ball : Un autre concept imagine les personnages dans la vie réelle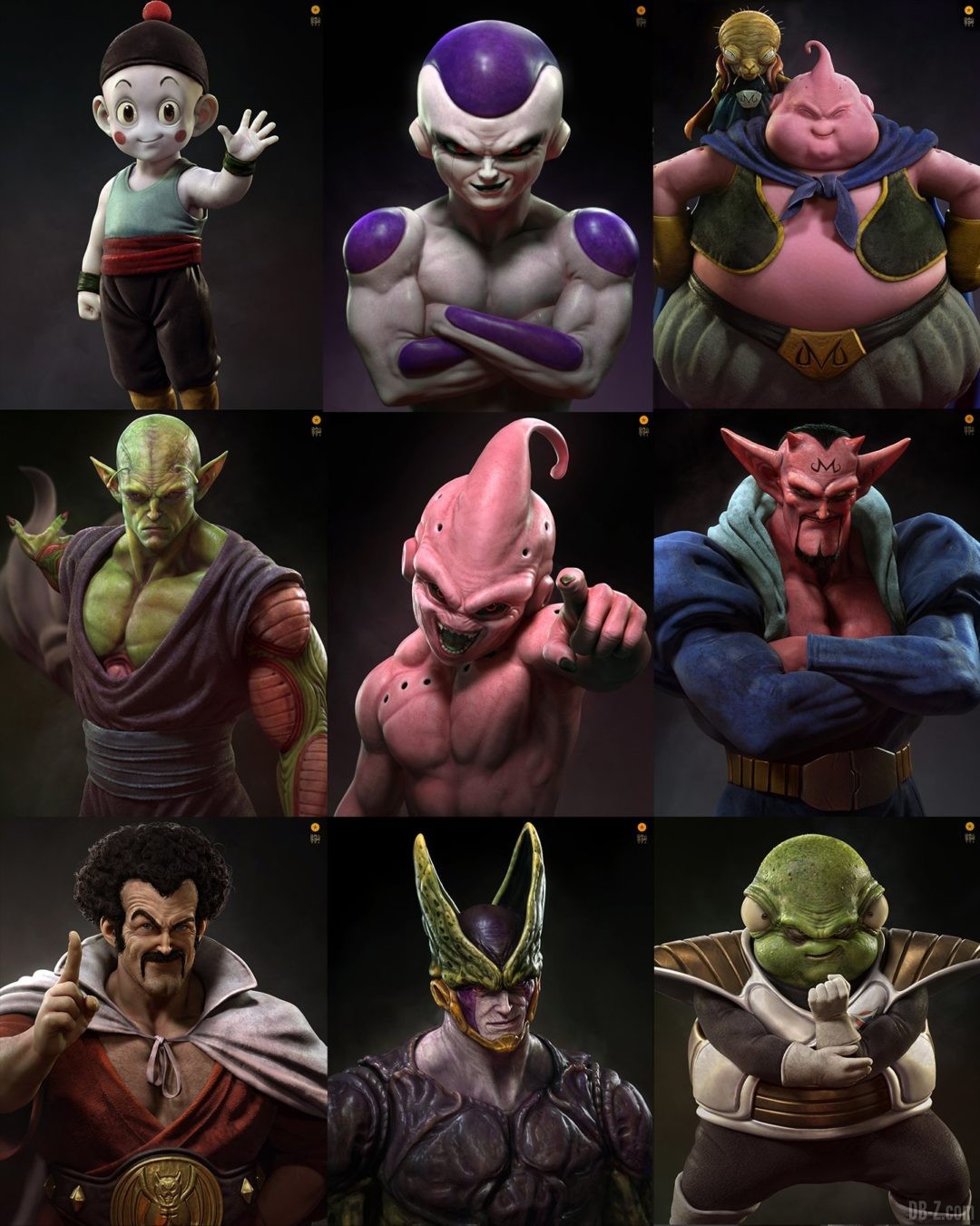 Vous aurez peut-être reconnu Chaoz, Freezer, Majin Buu, Piccolo, Kid Buu, Dabla, Mister Satan, Perfect Cell, et Guldo. Ils apparaissent tous dans un style qu'on pourrait éventuellement rapprocher (de loin) de God of War, mais rappelons qu'il ne s'agit ici ni d'un projet de DLC, ni même d'un proof of concept, mais juste d'un pur fanart.
D'ailleurs, le graphiste s'est aussi lancé dans d'autres adaptations inspirées de la culture Pop, dont une version féminine d'Iron Man, ainsi que la revisite complète des personnages d'X-Men.
Au passage, God of War Ragnarök n'a toujours pas de date de sortie officielle, mais le jeu est attendu pour 2022. Cette exclusivité PlayStation est certainement l'une des sorties les plus attendues de l'année, notamment après le succès du précédent God of War sorti en 2018.