Le site officiel de « Battle of Gods » annonce aujourd'hui que la compagnie Dydo Drink lancera dans une semaine deux nouvelles gammes de canettes à l'effigie de Dragon Ball, à partir du 25 February 2013. Ce n'est pas la première fois que des canettes Dragon Ball voient le jour. Nous vous avions déjà présenté les canettes Power Squash, puis le café Dragon Ball, et également d'autres canettes à collectionner de Dydo Drink les années précédentes. Bien que l'annonce soit faite sur le site officiel du film Dragon Ball Z Battle of Gods, rien ne dit si cela aura un rapport avec le film, mais vu les visuels, ça m'étonnerait. Elles seront néanmoins disponibles dans tout le Japon, au printemps et en été de cet année, via les distributeurs automatiques que vous trouverez tous les 50 mètres au Japon.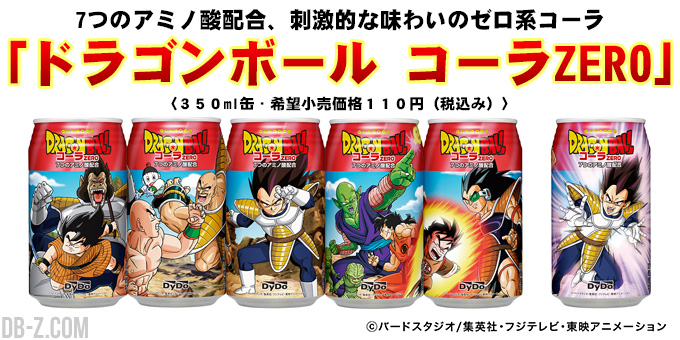 En détail, on aura donc le « Dragon Ball Cola Zero », représenté par six canettes zéro calories, mettant en scène la saga Saiyan. Chaque canette contient 7 vitamines, en l'honneur des 7 Dragon Balls.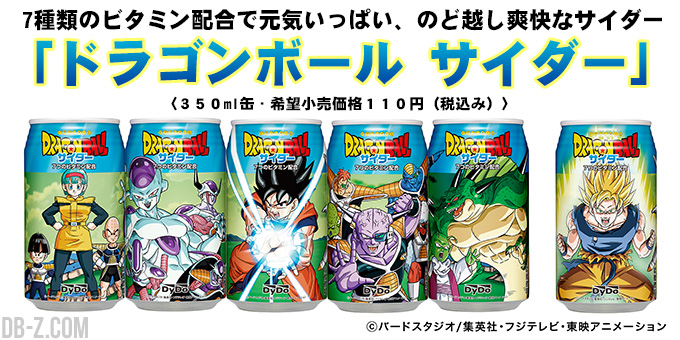 La gamme « Dragon Ball Cider » contiendra également 7 vitamines, et elle mettra en scène la saga Namek.