Après l'opening de SDBH Universe Mission 12, Bandai Namco publie la traditionnelle vidéo promotionnelle de son prochain opus. On a donc droit à un peu de gameplay, et à ce qui fera le jeu dans son ensemble. On aura donc 97 cartes, dont 24 cartes 'campain', et 4 cartes secrètes. Universe Mission 12 sera le douzième et dernier chapitre du sixième arc narratif éponyme du jeu d'arcade japonais SDBH. Il sortira au Japon le 09 janvier 2020, avec un scénario principal et deux quêtes secondaires.
Arc principal : Le conflit Universel
SDBH Universe Mission 12 poursuit le point culminant final de l'Arc du Conflit Universel (宇宙争乱編). C'est un arc narratif où les univers mènent une guerre violente contre les guerriers de la "zone centrale" dirigés par Hearts. Son objectif est d'exploiter le pouvoir du Noyau de l'Univers pour détruire les divinités, et Zeno en particulier. Dans "La bataille finale de l'Univers 7", les guerriers sont dominés par Hearts "Exterminateurs des Dieux". En effet, il a atteint sa forme suprême en absorbant le Noyau de l'univers. C'est à ce stade que Goku et Vegeta essaient leur dernière carte : la Fusion. Grâce à la danse Metamol, ils deviennent Gogeta. Il se lance à l'assaut de Hearts en utilisant le Super Saiyan Blue. Ainsi commence la bataille finale qui décidera du sort des univers et des mortels qui les habitent.
Arc secondaire : Le Retour des Démons
Après les événements du Royaume des Ténèbres et le mini-arc "Assaut du Démon Demigra", le sorcier Mechikabura (Magicabla) est de retour. Malgré le sacrifice de la Kaiohshin de Temps Chronoa, les portes du royaume ont été rouvertes et l'armée démoniaque, représentée par ses plus forts combattants, a recommencé le siège. Les guerriers Xeno de la Patrouille du Temps s'apprêtent de nouveau à faire face à la menace.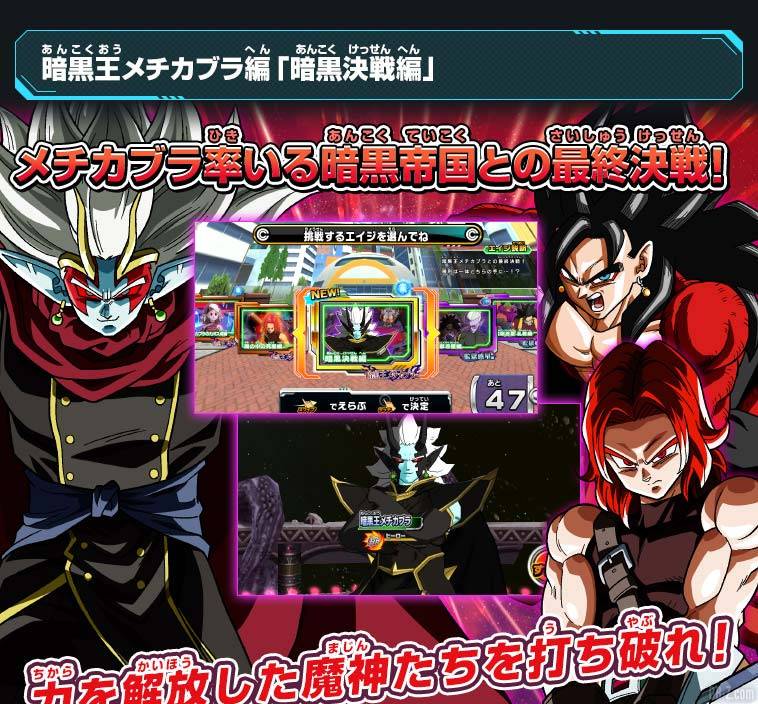 "La bataille finale des ténèbres" (暗黒決戦編) est un nouvel épisode du Retour des Démons qui nous amène au point culminant de la bataille entre la Patrouille du Temps, dirigée par Trunks Super Saiyan God, et Magicabula, qui a encore accru sa puissance avec une transformation, en absorbant l'énergie spatio-temporelle du trou noir. Comme leur chef se retourne contre eux, et comme il essaye de les piéger dans le trou noir, maintenant qu'il a atteint sa puissance maximale et n'a donc plus besoin d'eux, les guerriers démoniaques dirigés par Towa et Dabla ont décidé de s'allier avec la Patrouille du Temps et ainsi lutter pour leur survie. Encore une fois, la bataille finale commence.
Age of Dragon Ball : Episode Trunks
Nous concluons avec le nouvel épisode de la série de missions secondaires "Age of Dragon Ball", qui amène les joueurs à revivre l'histoire originale de DB à travers une série de Boss Battle thématiques. SDBH Universe Mission 12 présente l'épisode Trunks : une mission qui demande aux héros de rejoindre les différentes formes deTrunks du Futur pour affronter certains de ses ennemis les plus dangereux, dont Mecha-Freezer, le Roi Cold, Perfect Cell, et Zamasu.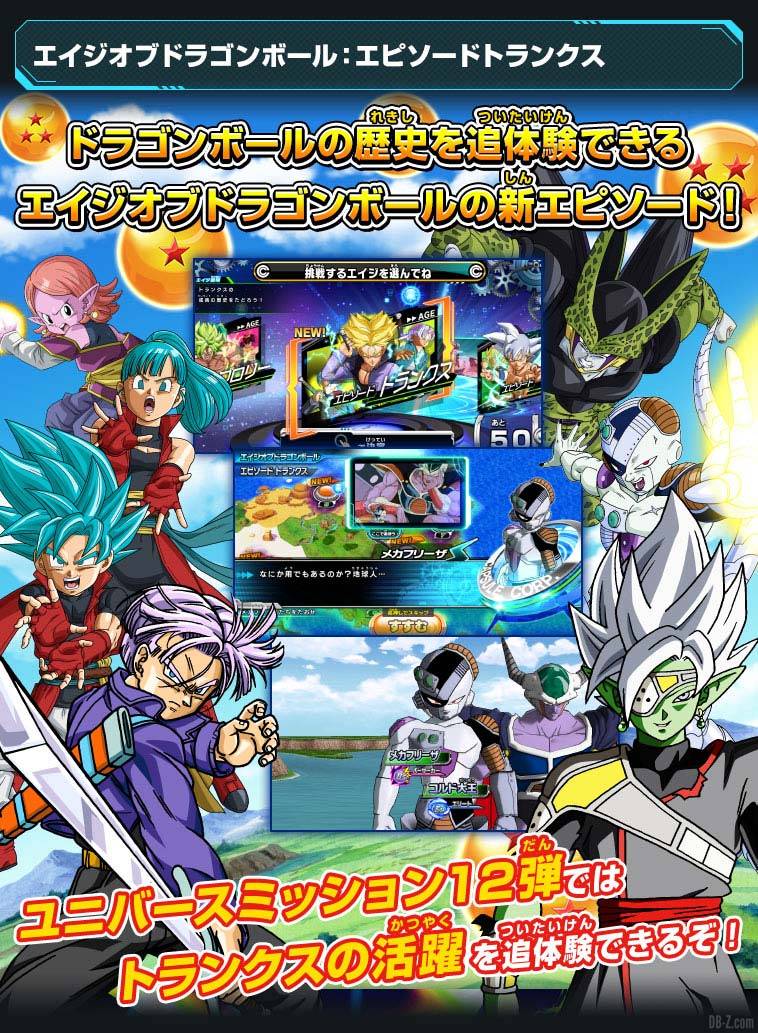 La liste des cartes de Universe Mission 12
La liste des cartes de Super Dragon Ball Heroes Universe Mission 12 nous apprend qu'il y aura donc 97 cartes au total. Elle seront divisées en quatre grande parties : la première partie consacrée à un mélange de guerriers-Z de la série animée ; la deuxième partie consacrée aux événements du nouvel épisode du conflit universel ; la troisième partie dédiée aux différents protagonistes de l'arc général du Royaume des Ténèbres ; et la quatrième partie consacrée comme toujours au film Dragon Ball Super Broly.
Dragon Ball Heroes & Super Dragon Ball Heroes
Dragon Ball Heroes est un jeu d'arcade japonais exclusif développé par Dimps. Disponible depuis 2010, il alterne depuis une série d'arc narratifs, chacun divisé en "missions" inspirées de la série originale, des films, et d'autres jeux vidéo Dragon Ball, avec l'ajout d'éléments et de textures originales, ainsi que des transformations what-if exclusives. Depuis novembre 2016, le titre a évolué pour devenir Super Dragon Ball Heroes, qui a grandement renouvelé le système de jeu et les bornes d'arcade elles-mêmes. Avec cela, une série de nouveaux arcs narratifs ont été lancés. Le premier était le Royaume des Ténèbres. Le second tourne actuellement autour des intrigues de la Planète Prison et du Conflit Universel.
Super Dragon Ball Heroes World Mission est disponible au Japon depuis le 04 avril 2019 et en France depuis le 05 avril 2019. Le titre offre un mode histoire original spécialement créé et un mode Arcade pour revivre les événements d'arcade de Super Dragon Ball Heroes. World Mission est le quatrième portage officiel du jeu d'arcade DBH. Retrouvez le site officiel japonais de SDBH.