Parce qu'il ne faut pas rester sur un échec, la communauté Dragon Ball continue de rêver d'une adaptation cinématographique digne de ce nom pour un film Dragon Ball avec de vrais acteurs. A ce titre, et désolé de réveiller de vieux démons, le navet Dragon Ball Evolution avait terriblement déçu, de quoi faire sortir de son silence son scénariste qui avait publiquement présenté ses excuses. Depuis ce triste 1er avril 2009, comme d'un commun accord, plus personne n'a osé soulevé la question d'un nouveau film live Dragon Ball, mais des fans continuent d'y croire.
Et ils n'ont pas tort, car quand on voit ce que le cinéma est capable de faire aujourd'hui avec des blockbusters de super héros tels qu'Avengers ou comme le dernier Marvel Shang-Chi qui 'est inspiré de Dragon Ball, on a de quoi rester positif. Récemment, un artiste a d'ailleurs imaginé les personnages du manga Dragon Ball dans la peau de véritables acteurs au cinéma. En effet, carlosgzz003 a posté sur Instagram son interprétation de Henry Cavill, Ezra Miller et Margot Robbie dans les rôles de Trunks, C-17 et C-18, dans une affiche portant sur l'histoire de Trunks.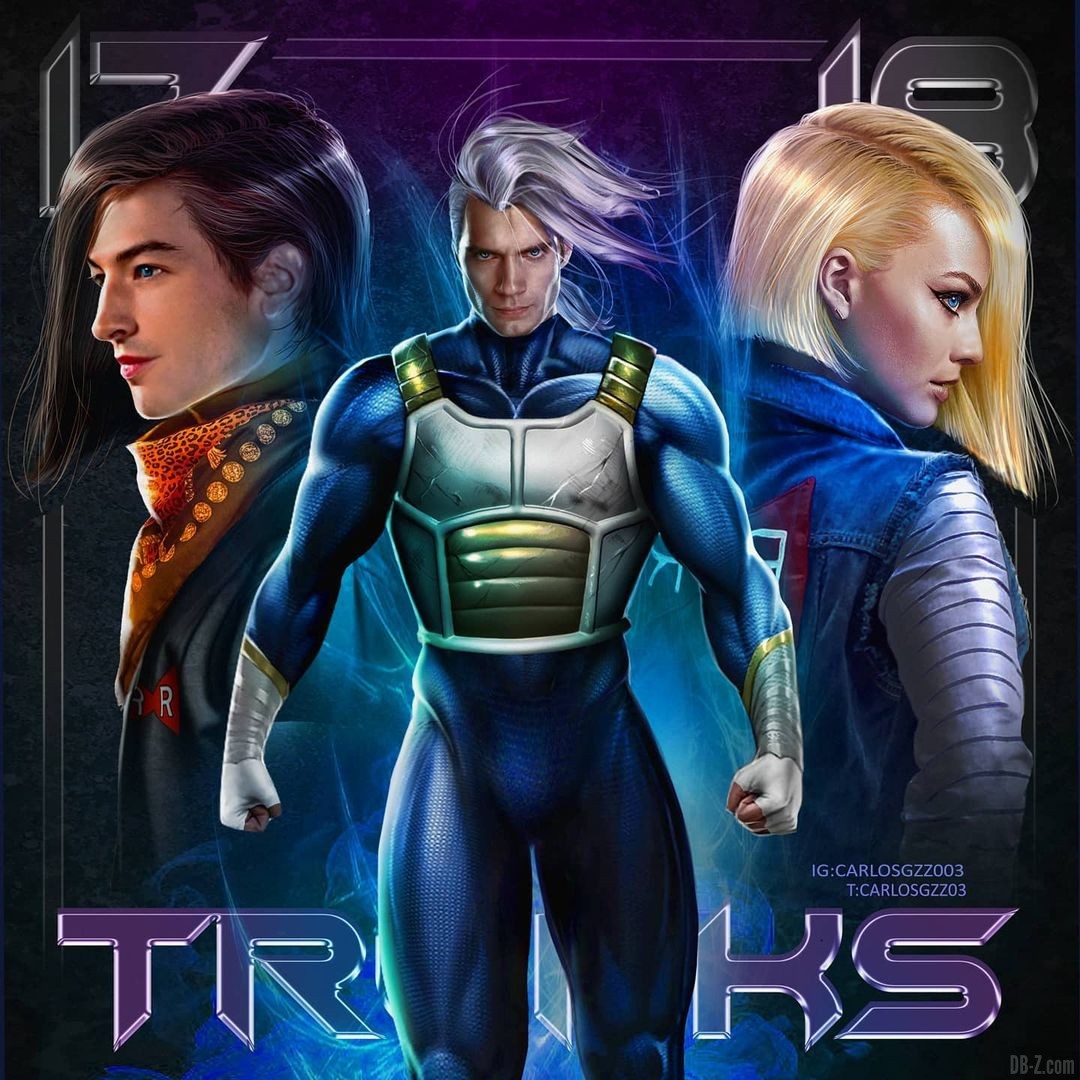 Vous les avez reconnu ? Trunks est ici interprété par Henry Cavill, qui avait notamment séduit dans son rôle de Super Man dans le film Man of Steel, ou encore dans The Witcher. C-17 est ici joué par Ezra Miller, que vous connaissez peut-être dans le rôle de Flash dans Justice League. Quant à C-18, c'est Margot Robbie, connue pour son excellente interprétation de Harley Quinn, qui revêt sa tenue en jean.
Même si, plus d'une décennie après, on garde encore un goût amer de l'expérience ratée de DB Evolution, on reste persuadé que Goku et Vegeta reviendront tôt ou tard en chair et en os sur le grand écran. Et ce n'est pas le rachat des droits par la Fox, elle-même rachetée par Disney en 2019, qui ira contre cette idée, à une époque où la popularité de la franchise légendaire ne s'est jamais aussi bien portée avec l'avènement des réseaux sociaux et des produits dérivés en tout genre.
On a déjà vu de très beaux concepts de fan-films Dragon Ball dans les dernières années, comme The Fall of Men, Light of Hope, ou The Legendary Warrior. On n'oublie pas la perche récemment tendue par Zack Snyder qui se disait chaud pour réaliser un film Dragon Ball, de quoi au moins espérer avoir de beaux projets pour l'avenir, qu'ils soient professionnels ou amateurs.