L'information Dragon Ball majeure de cette semaine, c'est l'annonce du jeu vidéo Dragon Ball The Breakers sur console de salon pour 2022. On avait tout d'abord aperçu un leak de l'annonce dans le V-Jump, et voilà cette fois une première page promotionnelle complète du magazine Shonen Jump.
Dragon Ball The Breakers sera un jeu de cache-cache dans le même genre que Dead By Daylight, mais moins horrifique. Il s'agira d'un survival dans lequel 7 joueurs (= les citoyens) devront échapper à 1 prédateur (= le Raider) dans le temps imparti. Cependant, il faudra faire vite pour s'enfuir, car plus le temps passe, et plus le prédateur évolue pour gagner en puissance !
Sur cette page du magazine, on apprend qu'il y aura des techniques et des objets pour vous aider pendant votre survie. Ici, c'est une capsule spatiale de Saiyan qui est mise-en-avant, mais on sait également qu'il y aura des armes, comme un bazooka. En effet, la particularité des 7 citoyens en danger sera qu'ils n'auront aucun super pouvoirs.
Dragon Change
La page du magazine nous explique aussi qu'en utilisant la technique « Dragon Change », le pouvoir de puissants guerriers « deviendra vôtre » pour combattre le prédateur. Ce paragraphe est illustré par une image d'un Kamehameha en duo avec l'esprit de Goku. Est-ce que c'est votre avatar qui tire l'attaque en duo avec Goku comme dans Xenoverse 2 ? Ou est-ce plutôt un genre d'invocation de Goku, ce qui serait plus tangible puisque les 7 citoyens n'auront aucun pouvoir ? La réponse ne devrait pas tarder à arriver.
AU SUJET DE DRAGON BALL THE BREAKERS

✪ Dragon Ball The Breakers : Le producteur Ryosuke Hara confirme le lien avec Xenoverse 2

✪ Dragon Ball The Breakers : La présentation officielle du jeu par Bandai Namco

✪ Dragon Ball The Breakers: 1er Trailer du prochain jeu de Bandai Namco

✪ Dragon Ball The Breakers : Un nouveau jeu vidéo PS4, Switch, XBOX One et Steam annoncé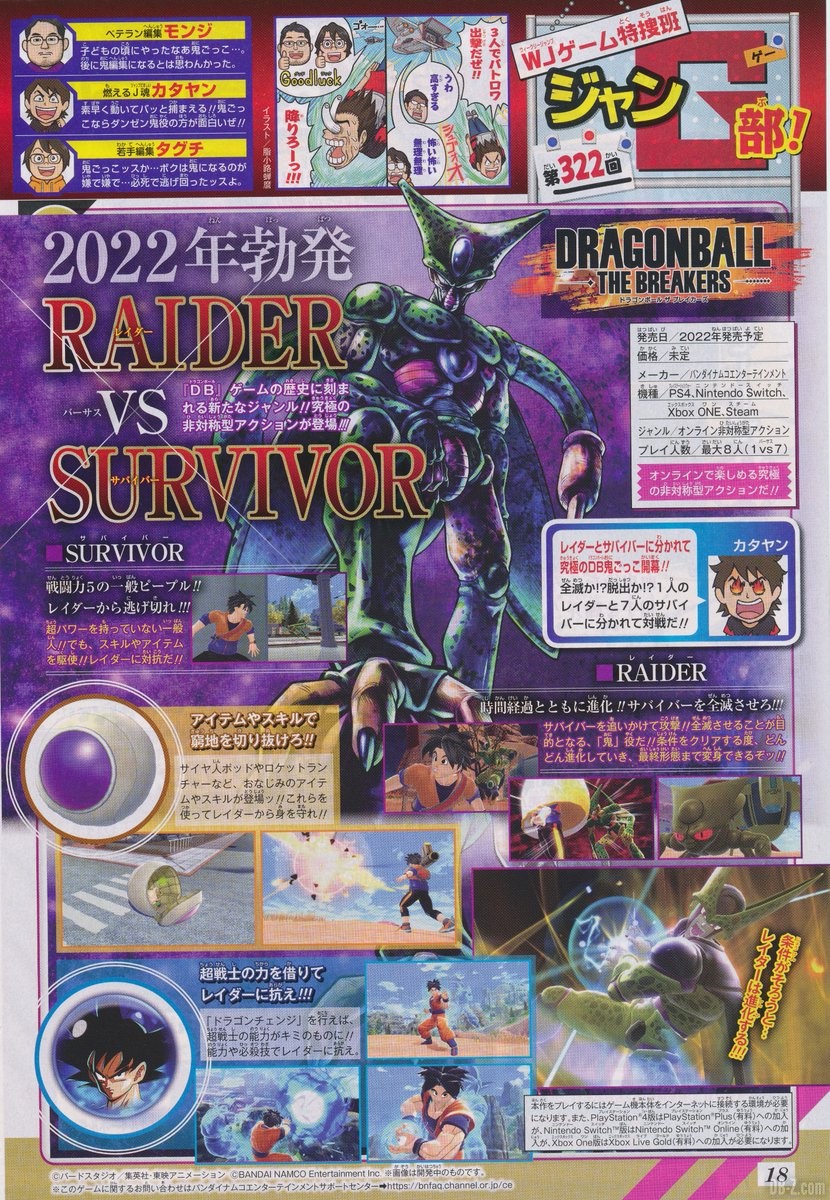 Situé dans l'univers de DRAGON BALL XENOVERSE, DRAGON BALL: THE BREAKERS vous permet d'incarner un ennemi emblématique de la franchise, le « Méchant », ou l'un des sept « Survivants » sans superpouvoirs. Le Méchant devra faire usage de toute sa puissance pour éliminer les Survivants. De leur côté, ces civils ordinaires pris au piège dans une faille temporelle où l'espace-temps est perturbé devront coopérer pour repousser le Méchant et utiliser la super machine à voyager dans le temps. Pour échapper à leur terrible ennemi, les joueurs pourront utiliser divers objets sur le champ de bataille.
En outre, les sauvegardes de DRAGON BALL: THE BREAKERS seront liées à DRAGON BALL XENOVERSE 2. Vous en saurez plus à ce sujet dans un futur proche.
« Nous sommes impatients de faire découvrir ce nouveau jeu à tous les fans de la franchise Dragon Ball ! Toute l'équipe de Dimps travaille dur pour proposer une nouvelle expérience multijoueur asymétrique à la fois très profonde et accessible à tous. N'hésitez pas à nous rejoindre pour participer au beta test fermé ! »

Ryosuke Hara, producteur de DRAGON BALL: THE BREAKERS, BANDAI NAMCO Entertainment Inc