Dokkan Battle annonce un nouveau mode « zombie » ! Mais seulement pour une journée, et pas n'importe laquelle : le 1er avril. Bandai Namco célèbre ainsi le poisson d'avril en dévoilant Dragon Ball Z Dokkan of the Dead. Il s'agit d'un mini-jeu spécial qui devait pouvoir être joué dans le jeu mobile Dragon Ball Z Dokkan Battle.
Durant toute la journée du 1er avril, l'éditeur nous a expliqué le système de jeu de Dokkan of the Dead à travers une série de tweets sur le compte officiel. Selon les tweets, et selon la note d'information qui apparaît au lancement de l'application, les joueurs devaient pouvoir choisir des personnages comme le Great Saiyaman pour nettoyer une ville infestée de zombies. Avec une vue à la première personne, le joueur peut appuyer sur l'écran pour vaincre les zombies ennemis. Des boutons supplémentaires devaient également être disponibles pour lancer une super attaque ou invoquer des personnages de soutien comme Mr Satan, Gotenks, et Tien. À la fin du niveau, le joueur devait combattre Freezer ressuscité, dans une bataille de boss.
Bandai Namco a également partagé une nouvelle bande-annonce présentant Dokkan of the Dead :
La version globale de Dragon Ball Z Dokkan Battle a été lancé en juillet 2015. Le jeu mobile, basé sur la célèbre franchise Dragon Ball, est resté très actif pendant déjà près de six ans. Il reçoit des mises à jour constantes qui ajoutent plus de personnages et de fonctionnalités.
Dragon Ball Z Dokkan of the Dead est un mini-jeu du poisson d'avril jouable dans Dragon Ball Z Dokkan Battle, disponible sur les appareils mobiles Android et iOS dans le monde entier. Voici l'écran d'accueil de cette journée spéciale poisson d'avril.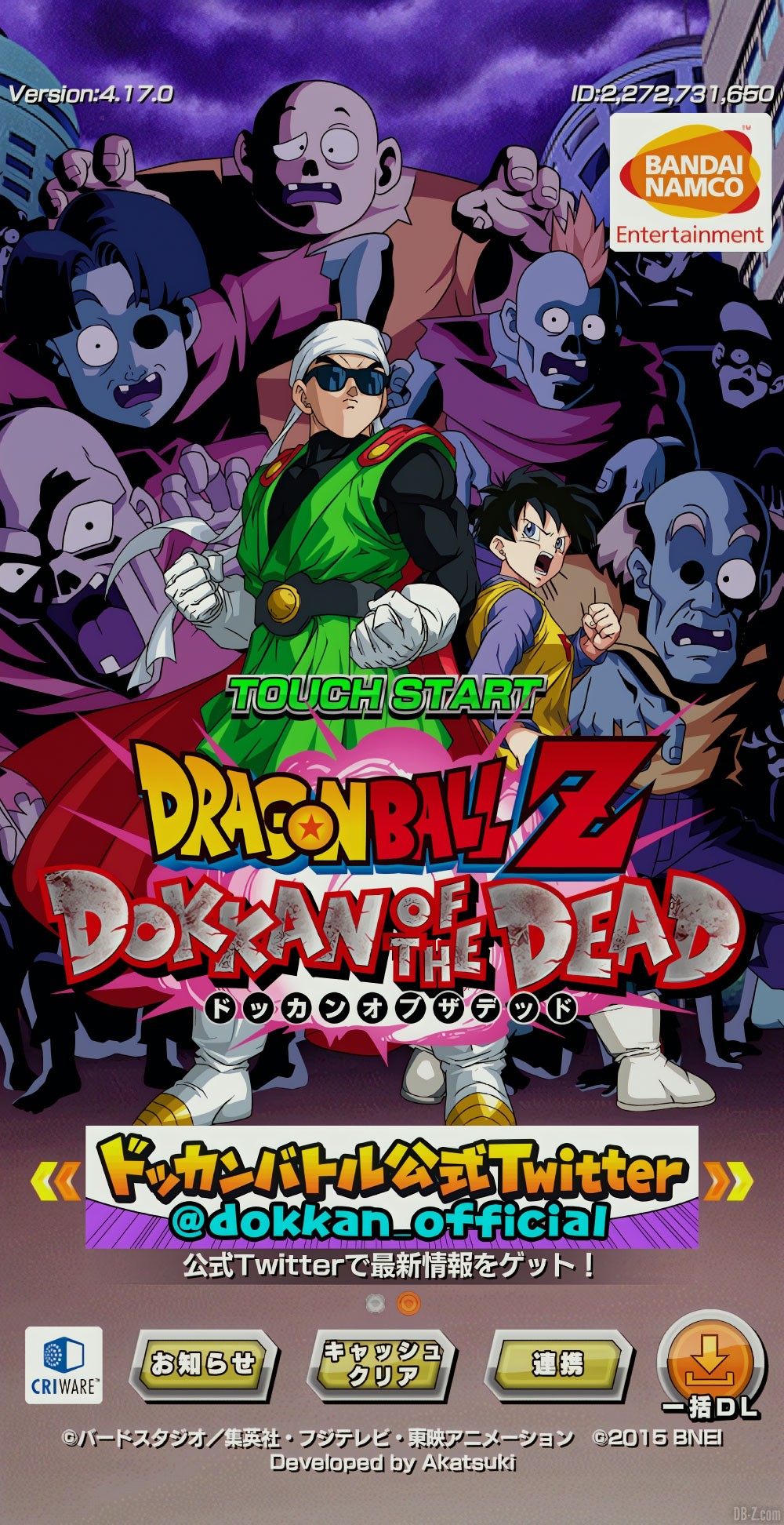 Galerie d'images de Dokkan of the Dead